So, you want to enjoy the many benefits of having a swimming pool, but don't know where to start or what's involved? Here's a recent pool and spa project we just completed for a family in Hawaii Kai. Read through my description of each phase of the process so you can begin visualizing your dream backyard.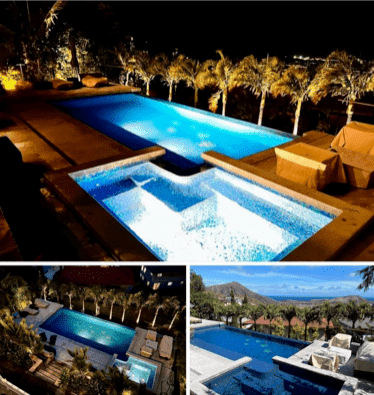 The building process can take around 10 weeks, and this project also included an attached spa. The goal is always to complete a beautiful pool and spa project quickly without sacrificing quality. Below is every phase of Neptune's pool-building process past the permitting phase.
Pre-Build: Pool Design & Planning
During the Pre-Build Phase, our clients met with our design team to discuss their vision for their pool and spa. Our catalogs were carefully reviewed to select the best supplies that matched their vision. Next, the Neptune pool planning and design team took detailed measurements and photographs of their home, lot, and proposed pool area so that lighting, dimensions, and landscapes could be evaluated. In addition, our pool designers also noted where utility boxes and access to the construction site were located. The last step during the pre-construction process included putting together design options and a proposal for the cost of construction which was then provided to the homeowners for review and approval.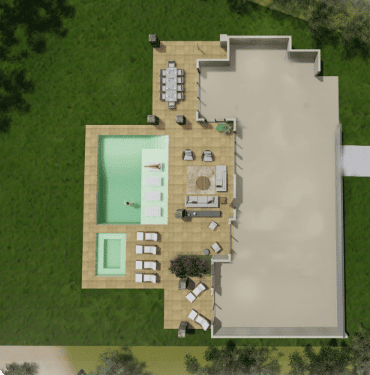 Getting Permits to Build a Pool
Acquiring the necessary permits for residential swimming pool zoning and construction in accordance with Hawaii law and Honolulu county regulations is a crucial step when it comes to pool construction. Here at Neptune Pools, we are happy to assist our clients in getting these permits. Furthermore, our team knows how to make sure the appropriate inspectors are contacted to locate all existing utility lines and we understand what the inspection requirements are for plumbing, electrical, and more. As an experienced pool-building contractor, the Neptune pool and spa construction team can help make sure every step is taken care of. For more information about the permit process for building a pool on Oahu contact us today.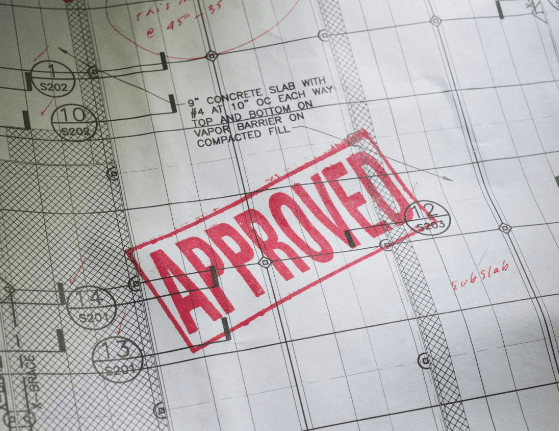 Laying Out the Construction Site
Upon completion of the design, planning, and permit approval, the construction team can begin the process of laying out the build site. At this stage, our project manager met with our clients at their Hawaii Kai home and reviewed the pool-building process in detail to answer any questions. During the layout phase of construction, the location for the new pool is staked out and form boards are used to create an outline. These stakes are very carefully placed to ensure the layout is compliant with the matches the approved construction plans. If the form boards move or shift, our on-site supervisor will need to ensure they are replaced, as the form boards are a critical first piece in the pool build process.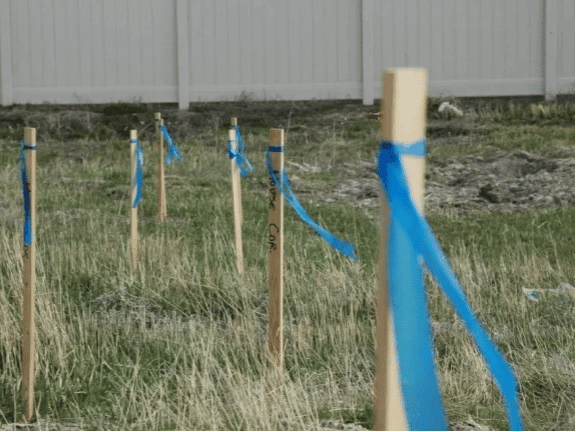 Pool Excavation
Here's where the fun begins! Although excavation is the beginning of "messy", it is also where we see the beginning of real transformation! For the Hawaii Kai family, we had to dig carefully as the space was not very large and the pool and spa would be their entire backyard. The excavation process generally takes several days and factors such as weather conditions and soil type may have to be factored in. We remove all excavated dirt unless it is needed for the next phase of the construction process.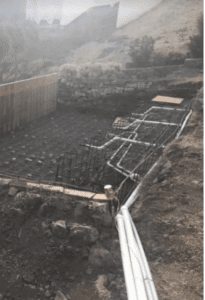 Installation of the Steelwork
After excavation, the pool form was strengthened with Grade 60 #3 steel rebar. This was placed both vertically and horizontally by hand to construct a secured, contoured grid that provides a major structure for the swimming pool. Intersections were then connected with wiring to hold the steel together. Additionally, block spacers were positioned beneath the steel to keep it above the soil and keep it in place during the Gunite application. Following the completion of the steelwork, a steel and ground inspection was required to meet building code regulations.

Plumbing Installation
Steelwork and plumbing were installed simultaneously for the construction of this pool. The rough plumbing, also known as a "stub out", was completed before the steel installation. This included the placement of plumbing lines for main drains, skimmers, return lines, waterfalls, and separate spas associated with the pool. Hydraulic calculations were performed to ensure all the equipment and piping were suitable for the desired water clarity and energy efficiency. This ensures that the pool will be easy to maintain and keep clean.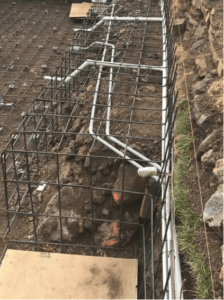 Gunite Application
Once the steel and piping were in place, it was time for us to bring in a specialized Gunite crew. Gunite is a mixture of sand, rock, and cement that is blasted through an air hose and distributed around the steel reinforcement grid of the pool structure. This process forms a compressive strength of 3,000-3,500 ps and gives the pool its shape. As we apply the Gunite, our clients begin to see their dream pool take form. Once applied, it will need to be set with some water likely settling at the bottom of the pool; however, rest assured that this water is pumped out before we move on to surfacing the interior.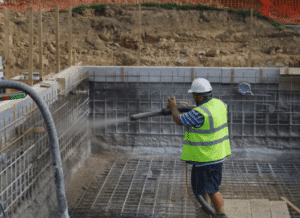 Installing Electric, Gas, & Pool Equipment
After the Gunite had been laid, we returned to install all of the filtration equipment for the pool and spa, including a waterfall. Electric conduits were then run from the breaker box to supply power to the lighting and other pool-related equipment. The gas lines necessary to connect the heater and spa were also laid in place before the actual equipment was set up. Finally, the pool's breaker box was installed in preparation for the equipment to be put into place. With that done, we were ready to finish this phase of the project.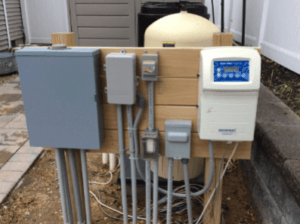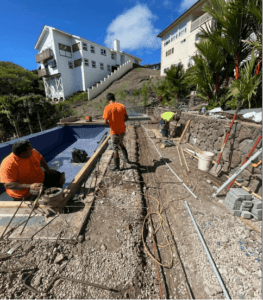 Coping & Tile Installation
The next step of the construction process was tile installation. Our Hawaii Kai family opted for a turtle mosaic to pair with their deep indigo tiles. We offer a range of tiles and mosaics and encourage our clients to browse our catalogs to find something that matches their vision perfectly. Simultaneously, we also installed the coping around the pool edge. Coping is the stone or concrete material used for the pool shell wall. This process took around 7 days for this client but can take longer depending on the size of the pool and tile, as well as any intricacies involved in the project. Once complete, you will have a non-porous, durable surface that is easy to clean, beautiful to swim in, and will last for many years!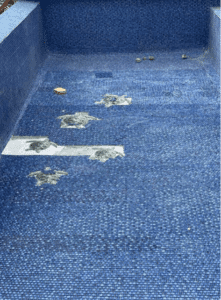 Building the Pool Deck
The pool deck is the last stage of your pool project! Finding the right decking to match your vision for a beautiful and stylish outdoor space can be daunting. Our design team will help you choose from the many types of concrete and pavers available, ensuring that the end result is something you'll enjoy for years. Concrete decks are poured and then finished, while stone or brick is laid before the concrete is poured. Pavers are a popular choice due to their low maintenance, long life, and appealing aesthetics. The timeline for this process is based on the square footage of the decking that needs to be installed or poured. Whether you choose concrete or pavers, you'll have a fabulous backyard complete with a pool and spa!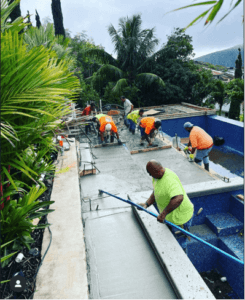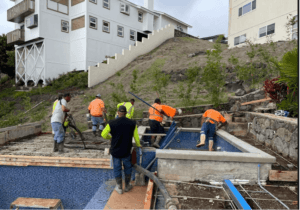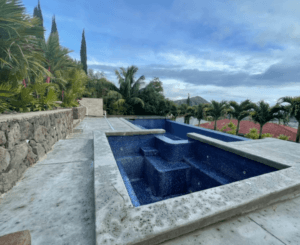 Cleaning Up the Build Site
With our project nearing completion, we performed a clean-up of all debris and construction equipment and materials from our client's now-beautified space. As a final step, the interior of the pool and any additional surfacing is completed to ensure our client was ready to indulge.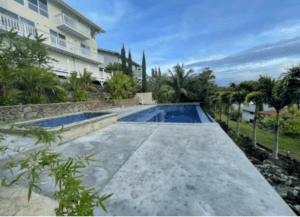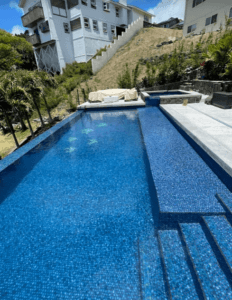 Turning Over the Pool to the Client
The last step is setting up a time for Neptune to orient you to your new pool and spa. This is also when Neptune can set up your weekly maintenance schedule if you choose to have us treat your spa and pool for you. For this Hawaii Kai client, they did not want to bother with the PH Balancing and treatment process, so they hired us for the weekly maintenance also. The benefit has been that there is one resource for all questions relating to the pool and spa: NEPTUNE! During the meeting, we go over tips for troubleshooting, how to perform routine maintenance, and answer any questions our client might have. If anything comes up after this meeting, we are local and just a call or text away! Neptune Pools Hawaii is known for our rapid response time and fast resolution turnaround!
Get Started Building Your Dream Spa and Pool Today
At Neptune Pools, we're passionate about creating beautiful backyard spaces that will provide wellness and healthful experiences for years to come. We understand the power of our community and the importance of making sure you have a space to relax and unwind in your own home. Our team is dedicated to delivering custom-built pools and spas complete with features such as water features, lighting effects, rain curtains, and even water slides.
Our family-owned and operated business is devoted to making sure you get the most out of your pool or spa experience. We strive to support you in any way we can so that you are able to enjoy your outdoor oasis for many years to come. To get in touch with us, call 808-265-1823 or email [email protected] and learn more about how we can transform your backyard into a space that you and your family will love. Let's build the perfect pool or spa for you today!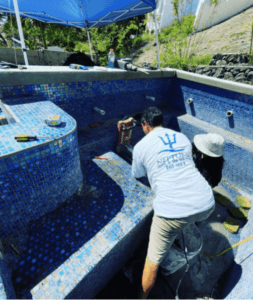 Here's what our Hawaii Kai client had to say: